CBORD Insights provides thought leadership based on proprietary research of stakeholders on university and college campuses across America and the world. Learn what your peers are saying about market pain points and technical solutions. Be the first to know and move!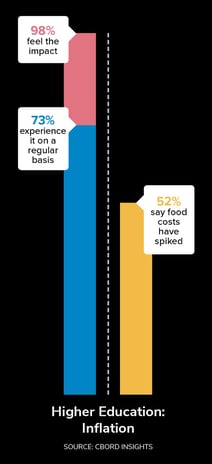 BLOG: Working Smarter to Manage Shortages and Inflation in Higher Education Foodservice
Follow a director of dining services as he works to overcome supply chain shortages and inflation. Discover how automation is streamlining higher education foodservice operations without impacting student experience.
Provide the Services Students Need with the Technology They Want
The value of the connected campus is in the synergies it creates and the service levels it enables — not to mention the control levers and revenue streams it affords leadership. Contact us today and let's build a vision and business case you can sell!